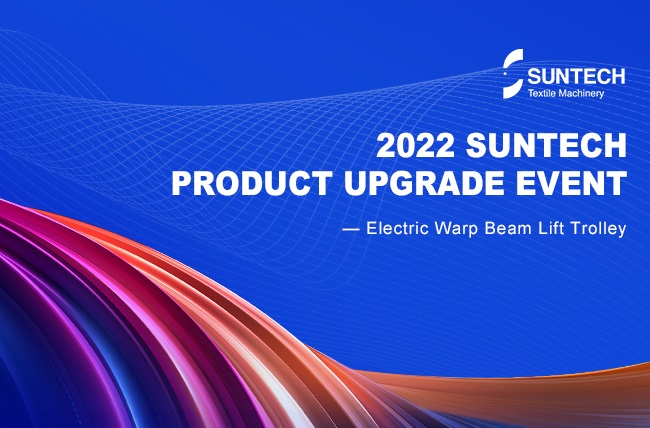 Dear customers, welcome to SUNTECH 2022 Product Upgrade Event! We're happy to announce that we've launched the Fully Electric Warp Beam Lift Trolley at 26th May 2022.
In the last few decades, technology has progressed at a staggering rate. We've already noticed the technological trends in the manufacturing and textile machinery industries, which are positively turn to the digital transformation.
Through these changes, we have gained an appreciation for the immense power and value of digitization and technology. This rapid technological change is affecting almost every area of the economy, society and culture, which also motivates SUNTECH to embrace the technological advancement and incorporate it into our textile machinery.
Thus, we have been exploring more technologies for textile storage and handling equipments for a long time. Along with the idea of customer first, we noticed their needs and requirements of a more convenient and efficient warp beam lift trolley. That's why we have an entire product upgrade with Electric Warp Beam Lift Trolley with Harness Mounting Device.
Now it is the newest model, suitable for bottom beam transporting, inserting in weaving machines, weave beam weighing up to 1800kg and beam width as per requirement, additional loading capacity of 300kg for harness. The trolley is applicable for any weaving machines with their normal working width 170-340cm without changing its size. And the harness is accommodated by the standard take-up for harness frame and the contact rails and dividing rails or the complete weave stop motion.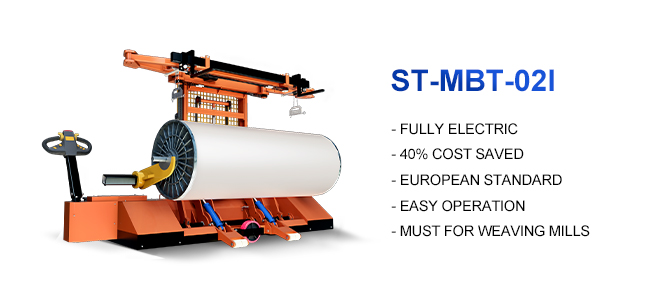 This complete fully electric warp beam lift trolley consists of three systems----DRIVING SYSTEM, BEAM LIFTING SYSTEM and HARNESS MOUNTING SYSTEM, each corresponding to its own function.
We've applied the latest technology to this machine to make it fully electric. You can use remote control to control harness mounting device going up & down, stretching out and retracting. Meanwhile, to ensure the safety of harness mounting device going up & down, there are two sets limit switches, one is on the top and the other one is on the bottom to avoid harness mounting device taking off. The intelligent application make the function very convenient, safe and time-saving. Compared to the traditional one, 40% cost can be saved, which is a huge step.
This is exactly our fully Electric Warp Beam Lift Trolley with Harness Mounting Device. You will be impressed with its amazing performance, rich operability and streamlined design.
As a leader in textile machinery, SUNTECH strives to bring the best performance, technology and new breakthroughs in the industry. We look forward to bringing you more new products.