INDIA ITME 2022, the global business platform for textile machines, will be held in Exposition Mart Ltd, Noida from December 8 to 13, notwithstanding the difficulties that have been caused by the coronavirus. In spite of the challenges, we are all of the opinion that both the exhibitors and the visitors are going to be satisfied with this activity.
With over 50 years of specialized experience of R&D, manufacturing and supply in textile machinery, SUNTECH has acquired satisfying evaluation and reputation around the world. For a long time, we've witnessed the development of textile machinery as well as the international textile and garment technology exhibition.
SUNTECH has never missed any opportunity to take such a big event in the textile industry to learn the latest technology and attract a high focus from the global customers, and now we've cooperated with more than 5000 customer worldwide. For a further cooperation, SUNTECH will show up at INDIA ITME 2022 with upgraded edition of Fully Electric Warp Beam Lift Trolley and Beam Stacker, which is revolutionary in material storage and handling equipment.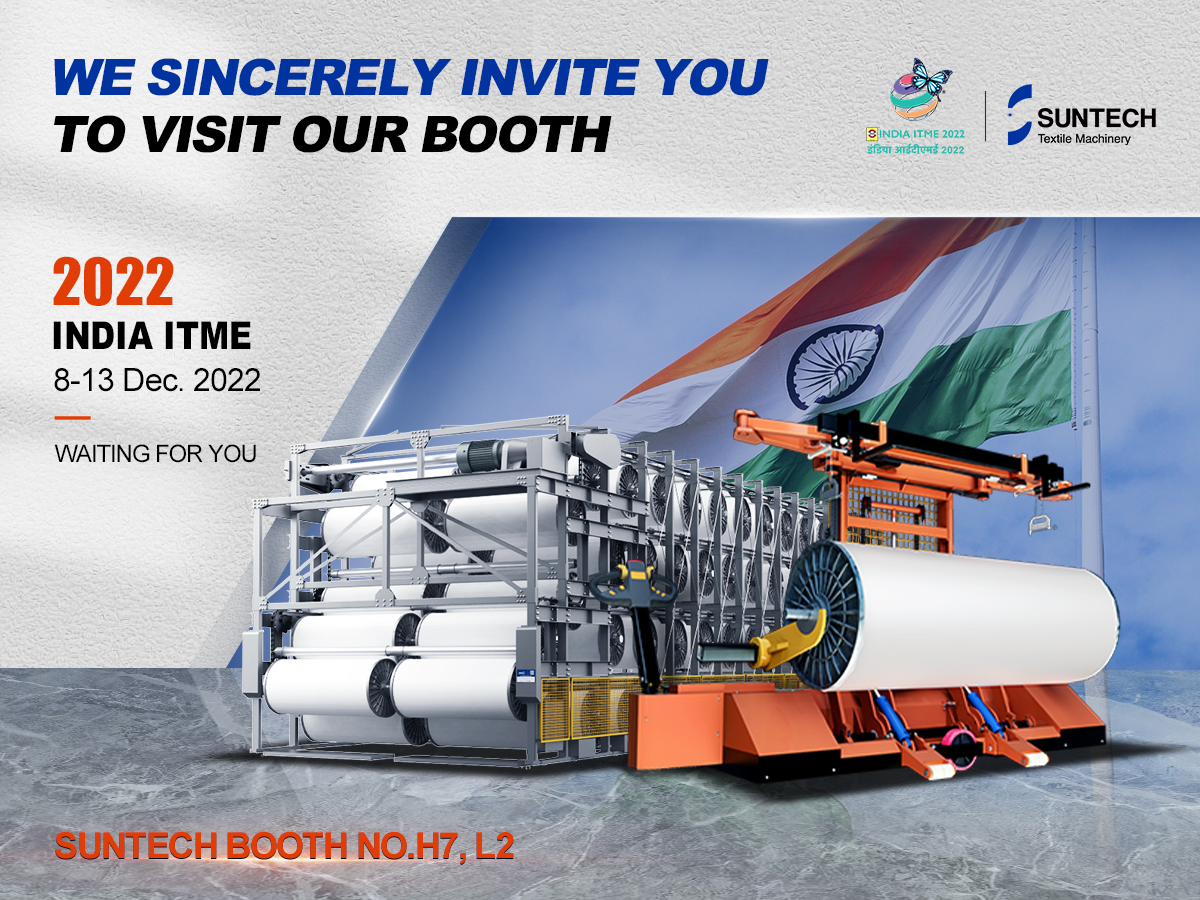 Fully Electric Warp Beam Lift Trolley is the newest model, suitable for bottom beam transporting, applicable for any weaving machines with their normal working width 170-340cm without changing its size inserting. The fully electric function can increase 50% work efficiency and save 60% labor cost, which will greatly drive the handling equipment into intelligence, automation and digitization.
Beam Stacker is used to store different beams in an automatic way, definitely making your factory smarter. Customized solution gives you unique method to save your factory space while saving 3-times labor cost. The latest chain synchronization automatic detection technology can also achieve zero accident. Enjoy both high efficiency and safety guarantee with this beam stacker!
SUNTECH is maintaining steady growth in the business and seeking for more opportunities. We sincerely invite our old friends or anyone who have interest in SUNTECH to meet us at the booth No.H7, L2, where you can visit Fully Electric Warp Beam Lift Trolley and Beam Stacker directly.
We are gearing up preparations for the upcoming exhibition and are spurred to communicate with our customers face to face at INDIA ITME 2022. Looking forward to your attendance! Don't miss the great chance!