With 17 years localized experience in Bangladesh, we're glad to announce that SUNTECH will enter the Dhaka International Textile & Garment Machinery Exhibition (DTG 2023) at Hall 7-731, which will be returned from 15-18 February 2023.
SUNTECH, as a specialized and leading brand of textile machinery, has accumulated extensive experience in the development, production, supply and sales of textile finishing machinery, nonwoven manufacturing machinery, textile material storage and handling, and weaving machinery. What we do is not just to be a successful company, we embed value creation in everything we do for customers. Despite the influence of the coronavirus, we still keep expanding the overseas team to serve the local customers better.
Today, we have cooperated with more than 5,000 customers worldwide and our machines are exported to more than 120 countries, with 17,000 machines currently in stable operation in global areas.
We invest all our resources and talents in the constant expansion of more intelligent and automated textile machinery manufacturing lines, and in the continuous development and iteration of new technologies and techniques to bring our products to the next level.
In DTG 2023, we'll exhibit the Fabric Relaxing Machine, Electric Trolleys & Beam Stacker and Fabric Inspection & Packing Line.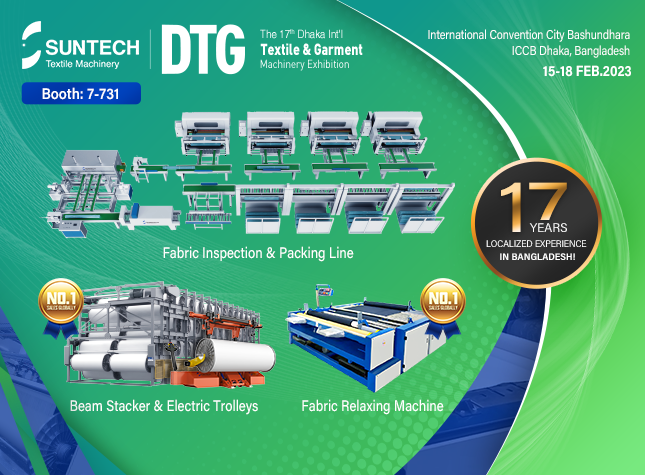 SUNTECH Fabric Relaxing Machine is mainly used to eliminate the tension of fabrics while keeping fabrics tidy for storage. Compared with the traditional way from roll to plaited fabric relaxation, this Fabric Relaxing Machine with special air floating device and tension control system makes the fabric tension totally released from roll to roll, saving 24 hours of laying time.
The popular material storage & handling system equipment, like Beam Stacker, the computerized warp beam storage system for stacking your weaving beams, saves 3 times space. The Electric Warp Beam Lift Trolley is suitable for bottom beam transporting, increasing 50% efficiency!
You should also not miss the hot sale Fabric Inspection & Packing Line, which is designed to pack fabric rolls in vacuum & automatic way. Easily get customized Packing Line with one-stop process in AI inspection, sampling & taping, mapping, labeling, packing, sorting, etc.
If you want to take a clear look at these machines, welcome to attend DTG 2023 Bangladesh. Our professional team will be there to show you the real machines and operations, along with specific application scenarios. SUNTECH, a leading textile machinery brand of innovation, is working hard for providing highly automated solutions for modern textile mills globally.